About Phillips Energy, Inc.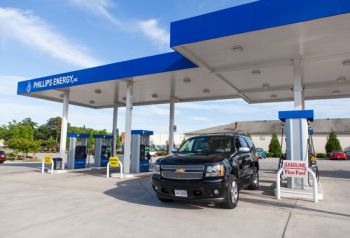 As one of Upper Tidewater Virginia's only providers of heating oil, on- and off-road diesel, gasoline, propane, and lubricants, Phillips Energy meets the complete energy needs of homes and businesses in Gloucester, Mathews, and York counties, and the Williamsburg area. But we're not just a fuels company — our customers rely on our professional installation, repair and maintenance services, as well.
Meeting ALL your energy needs — that's Phillips. 


A Proud History
Phillips Energy, Inc. was founded in 1946 by L. Frank Phillips Sr. in Gloucester County as L.F. Phillips & Sons, Inc. At that time, the company sold heating fuels, gasoline and motor oils. L. Frank Phillips, Jr. acquired ownership in the late 1960s. With the purchase of Tidewater Oil Co., the business expanded its service area into Mathews County. In the early 1990s, Mr. Phillips' children, John Phillips and Elizabeth McCormick, joined the business. They expanded the company, purchased J.C. Brown Oil Co. and shortly thereafter changed its name to Phillips Energy, Inc. 
Over the last 25 years, Phillips Energy has added a propane gas distribution division, a propane appliance installation and service division. Additionally, Phillips Energy now has three locations; Gloucester, Mathews and New Kent Counties 
In late 2009, the company added a 24-hour fueling facility including alternative fuels with a vision of fueling the future. Located at 2586 George Washington Memorial Highway in Hayes, this retail facility offers convenient fueling for the general public and private fleets.
 
Locations
GLOUCESTER SHOWROOM AND RETAIL FUEL STATION:
2586 George Washington Memorial Highway, Hayes, VA 23072

MATHEWS SHOWROOM:
18404 John Clayton Memorial Highway, Mathews, VA 23109

NEW KENT SHOWROOM:
9201 South Courthouse Road, Providence Forge, VA 23140


Service Area
Gloucester
Mathews
Northern Neck
(Irvington, White Stone, Hartfield, Deltaville)
Yorktown
Newport News
Hampton
Poquoson
South Hampton Roads
(Chesapeake, Norfolk, Virginia Beach, Portsmouth)

 

Western Tidewater
(Suffolk, Smithfield)
Williamsburg
James City County
New Kent County
West Point
Charles City
Toano
Providence Forge
Lanexa
Our Vision
Our vision is to be the leading fuel related energy provider in Southeastern Virginia, recognized as an energy partner to a strong commercial and residential customer base.


Our Mission
Service ... Safety ... Satisfaction. These are just some of the words we live by. Phillips Energy, Inc.'s mission is to deliver fuels and energy related services to customers through our:
Dedication to meeting the needs of our customers in an environment committed to superior customer service, quality of work, and the welfare of our community
Focus on the safety of our employees and customers
Excellent supplier relationships
100% commitment to employee training and certification
Safety
At Phillips Energy, we are completely committed to our customers' and employees' safety. Our drivers and technicians are certified according to the strictest standards and continually receive safety training and certifications. In addition, every employee undergoes a strict background check as part of his or her application process. We are certified by the Commonwealth of Virginia as a Drug Free Workplace.
We welcome suggestions from our customers on how to improve our safety. Please contact us.