Community Outreach
Delivering comfort means more than just filling tanks with fuel or tuning up a burner. It means helping others, and giving our time and effort to make others feel happy, healthy and well cared for. For these reasons, we at Phillips Energy have strong ties with the community. We are involved in many community activities and charitable causes and are proud to deliver true comfort to our Upper Tidewater friends and neighbors.
 
Phillips Energy #ENDALZ Propane Truck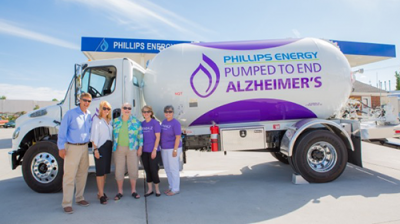 Phillips Energy is pumped to help end Alzheimer's Disease with every gallon of fuel pumped from our signature #ENDALZ purple propane truck. The truck is adorned with the phrase "Pumped To End Alzheimer's" and decorated in the disease's signature color purple.
A penny from every gallon of propane pumped from the truck is donated to the Alzheimer's Association, which will earmark the funds to support families and efforts benefiting those living with Alzheimer's on the Middle Peninsula (Gloucester and Mathews Counties).
"We're proud to partner with the Alzheimer's Association as it's a cause that's so important to our family and so many in our community," said Elizabeth McCormick, Vice President of Phillips Energy.
Of the more than five million Americans living with Alzheimer's disease, 140,000 are right here in Virginia.
 
Phillips Energy Proudly Partners with these Community Organizations:
Alzheimer's Association
American Cancer Society
Arts on Main
Bread for Life
Gloucester Chamber of Commerce
Gloucester Community Foundation
Gloucester Housing Partnership
Gloucester Lions Club
Gloucester Main Street Association
Gloucester Mathews Care Clinic
Gloucester Mathews Humane Society 
Gloucester Rotary Club
Gloucester Samaritan Group
Hands Across Mathews
Mathews Community Foundation
Mathews Lions Club
Middle Peninsula Volunteer Fire and Rescue Departments
New Kent Chamber of Commerce
Riverside Walter Reed Hospital
Salvation Army
School Systems and Athletics in the Communities We Serve
United Way of the Virginia Peninsula
Virginia Institute of Marine Science
Virginia Living Museum