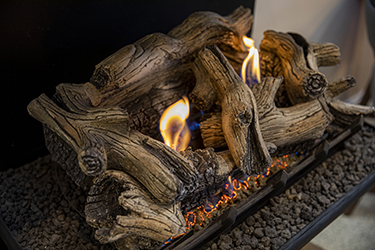 Fireplaces
Phillips Energy propane gas fueled fireplaces and logs bring you all the classic warmth and ambience of a wood fireplace without the hassles and mess. Just flick a wall switch or touch a remote control and you have flame. There's no wood to fetch, no damper to open and close, and no ash to clean up afterwards. Plus, gas logs look just like the real thing! 
RH Peterson

For more than 65 years Real Fyre (RH Peterson) has been creating the most beautiful gas fire products you can buy. They build gas fire logs so authentic looking, they're equally beautiful with or without a fire burning. And for those seeking a more contemporary look, Real Fyre also offers a wide range of stunning glass and stone designs.
Majestic Vented Gas Fireplaces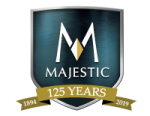 Beyond just safe, reliable and attractive, Majestic products are built to be efficient, quality heating appliances, adding value to your home for years to come. That's why, for decades, Majestic has been the fireplace of choice for homes across North America. They believe trust is earned, not given, and appreciate the faith you've shown in our brand for over 100 years. Originally a manufacturer of cast iron furnaces and coal chutes, Majestic created its first factory-built fireplace in the 1930's and never looked back. Traditional to contemporary. Indoor or outdoor. Wood, gas or electric. With a wide range of eye-catching styles, convenient sizes and trending trims, Majestic products are designed be the beautiful heart of your home. Each Majestic fireplace is engineered for performance, style and lasting reliability. All of our products are designed by hearth experts utilizing strict engineering guidelines and are rigorously tested for reliability and durability. We want to be certain we are putting the best product we can into your home.
Monessen Vent Free Gas Fireplaces

Monessen brand products are known throughout the industry for their aesthetics, performance and convenience features. As a savvy consumer, you can feel good about making a smart purchase when you choose a Monessen product. It delivers the satisfaction of great performance for years to come.
American Hearth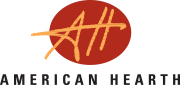 Empire manufactures American Hearth indoor and outdoor fireplaces, inserts, logs & burners, cast iron stoves, and mantels at the company's two manufacturing facilities in Belleville, Illinois, just outside of St. Louis.  The company has provided jobs to southern Illinois residents for more than 100 years – both in the original sheet metal shop dating back to 1911 and in the manufacturing facility that opened in 1932.  The children, grandchildren, and great grandchildren of some of the original employees still proudly work to produce our products, truly making this a family business.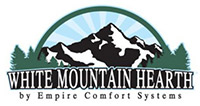 White Mountain Hearth
Empire manufactures White Mountain Hearth indoor and outdoor fireplaces, inserts, logs & burners, cast iron stoves, and mantels at the company's two manufacturing facilities in Belleville, Illinois, just outside of St. Louis. 
Heatmaster

"The ultimate in realism created by the perfect blend of art and engineering." HEATMASTER, Inc. is located in Angier, North Carolina, approximately 30 miles south of the famed Research Triangle Park. Their corporate facilities and manufacturing are nestled among the hard-working communities of central North Carolina, which is where they get their work ethics of integrity and honesty, and general business ethics stem from. In the late 1970s HEATMASTER was involved in the design and manufacture of farming equipment. At that time the founder was presented with an unusual request – create a device that would capture and disperse more of gas log sets heat. A sheet metal shroud and heat deflector was constructed with an internal fan to distribute the heated air. This idea was quite a success and soon mass production was underway. By 1984 with gas heating becoming more and more prevalent, HEATMASTER produced its first sets of gas logs. Over the years the continued development of a unique log molding process has yielded the most attractive and realistic log sets available today. These log sets are just as pretty for the five months a year when they're not in use as they are with a roaring blaze surrounding them.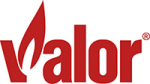 Valor
Why choose a Valor fireplace? From their fireboxes to their flames, Valor continuously refines their designs and masters their engineering to create the most efficient and enjoyable fire on the market.
Skytech Remotes
Phillips Energy proudly sells both manual control valve and electronic valve gas log sets. The manual control valve requires the user to manually light the pilot but can then be controlled by an on/off switch or a thermostat remote. The electronic sets allow for the remote to start the pilot as well. Many customers have converted to the electronic start sets – for convenience and efficiency of lighting the pilot. Because the pilot is easy to turn on and off with an electronic set, the customer will use less propane as well.
Contact a Phillips Energy showroom near you for more information and to learn how Phillips Energy can help.