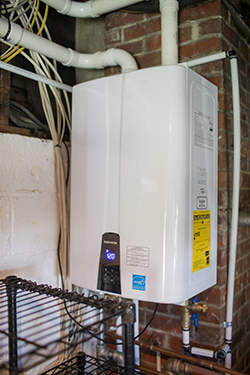 Water Heaters
When it's time to replace your aging water heater, upgrade to the performance and savings of propane. A propane-powered water heater will save on energy…and if you go tankless can deliver endless hot water. 
TANKLESS HOT WATER HEATERS
The benefits of propane tankless water heaters = an endless supply of hot water by utilizing compact and highly innovative technology, as well as: 
Only heats water when it's needed.

Compact size saves roughly 12 square feet of floor space.

Saves more than $150/year in energy costs when compared with typical electric storage water heaters.

Roughly half the CO2 emissions of electric storage tank systems.

Qualifies for credits and rebates worth hundreds of dollars (new construction and replacements.)
TANK WATER HEATERS

The benefits of propane storage tank water heaters include compact size, electric ignition, and highly insulated units offering superior comfort.
Propane storage tank water heaters are a versatile, efficient, and reliable hot water solution for homeowners. Propane storage water heaters offer superior hot water delivery and energy costs compared with traditional electrical storage tank units, and come in a wide range of capacities to meet the hot water demands in any home.
Propane storage tank water heaters are well suited for both new construction and as simple replacements for electric or gas water heaters in existing homes and businesses.
Click here for a list of water heaters equipment.

Contact a Phillips Energy showroom near you for more information and to learn how Phillips Energy can help.