Outdoor Living
The benefits of propane don't end at the front door. With propane, you can transform any outdoor space. Full outdoor kitchens, patio heaters, fire pits, flame lighting, and more can all be powered by propane.
GRILLS
Just like an indoor gas range, propane grills give you instant on-off convenience and precision temperature control for a perfectly done meal, every time.
Nothing beats a tasty meal cooked over a gas grill! In addition to the latest gas grills at every price point, we offer outdoor accessories such as gas lighting, fire pits, patio heaters and more.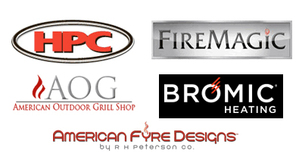 We feature gas grills and accessories by: 
OUTDOOR KITCHENS
Powered by your home or business's main propane supply, a full outdoor kitchen provides the ultimate outdoor cooking and entertaining experience.
FIREPLACES & FIRE PITS
Get a real flame and real warmth at the flip of a switch. Simply shut it off when you're done with no messy soot or ash to clean up.
PATIO HEATERS
A chill in the air shouldn't stop you or your guests from enjoying an evening outdoors. Patio heaters can add comfort on the chilliest nights by raising the nearby outdoor temperature up to 25 degrees Fahrenheit.
FLAME LIGHTING
Real flame lighting creates an unforgettable look for outdoor spaces, and can be used for walkways, general lighting, and more. Plus, they are totally odorless, and will function even during a power outage for added security and safety.
POOL & SPA HEATERS
Extend pool season all year round by heating an above- or in-ground pool or spa faster and more efficiently using a propane heater.
Contact a Phillips Energy showroom near you for more information and to learn how Phillips Energy can help.