Benefits of Propane Autogas Discussed by Industry Leaders in Newport News
---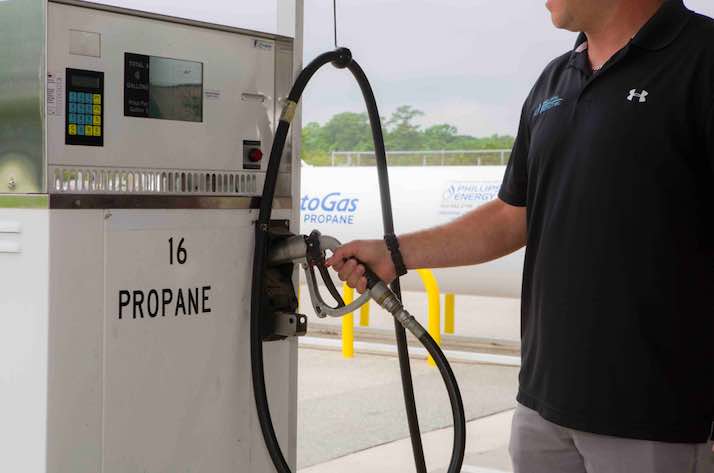 Before school let out for the summer, more than 900,000 students across the United States rode to school in propane powered school buses each day, Thomas "Tucker" Perkins, President and CEO of the Propane Education & Research Council (PERC) said when visiting Newport News last month.
In Newport News alone, there are more than 100 vehicles that run on propane autogas and as a result the city has reported that it has reduced its fuel expenses by more than $100,000 and avoided 613 tons of emissions.
"What could school boards do with that extra money they save?" Perkins asked the crowd, reporting that he's heard across the country about localities being able to invest in extras like technology and athletics as a result of the savings.
Newport News is already seeing that.
"That's just one city," said John Phillips, President of Phillips Oil and Gas, a leading provider of propane in the Tidewater, Virginia region. "Imagine the impact we can make on the entire state if Virginia's localities were to take the lead like Newport News and outfit their white truck fleets, their school buses, with propane."
And that doesn't count the benefits to companies who haul goods and services throughout the community.
In late May, more than 50 fleet managers, propane industry experts, environmental representatives and community leaders gathered in Newport News for the inaugural "Autogas Answers" forum to learn more about propane and how they benefit fleets, both private and public.
Bar none, the takeaway was that propane can help lower fuel and maintenance costs while minimizing environmental impact.
During the half-day program, attendees also explored the economic, environmental and energy security benefits of propane as a motor fuel; what on and off-road products are currently available for fleets; tax credits and incentives available to fleets; how to perform a cost saving analysis and how and where to install propane fueling stations.
The event included an opportunity for attendees to view and test-drive propane powered vehicles, including a Ford Police Interceptor used by forces across the country, and several examples of Ford vehicles equipped with ROUSH CleanTech alternative fuel systems, including a Blue Bird school bus, F-650 box truck, F-550 crane/service truck, F-450 paratransit vehicle, and an F-250 pickup truck. Other machinery, such as propane powered lawn mowers, were also demonstrated.
The event was a collaboration between PERC, the Virginia Propane Gas Association and Virginia Clean Cities.
Propane autogas has a proven track record of success in a wide variety of vehicle applications, including school transportation, public and private transit, delivery services, law enforcement, and work trucks, Perkins said.
Propane vehicles can produce fewer ozone-forming emissions than vehicles powered by reformulated gasoline, according to Virginia Clean Cities. In addition, tests on light-duty, bi-fuel vehicles have demonstrated a 98 percent reduction in toxic emissions such as benzene, 1,3-butadiene, formaldehyde and acetaldehyde when the vehicles were running on propane rather than gasoline.
The cost of a gasoline-gallon equivalent of propane is generally less than that of gasoline, so driving a propane vehicle can save money. In addition, propane is the most accessible of all alternative fuels. In the United States approximately 3,000 publicly accessible facilities offer propane.
Approximately 85 percent of all propane used in this country comes from domestic sources, so driving a propane vehicle can help reduce U.S. dependence on imported oil and strengthen national energy security.
Phillips Oil and Gas leadership is available for interviews about the trends localities and private industry are seeing when they convert their fleets to propane autogas. Media members who wish to schedule an interview, ride along in a propane powered vehicle or want more information can contact Stephanie Heinatz of Consociate Media at stephanie@consociatemedia.com or 757-713-2199.