Phillips Energy Reaches $100,000 in Total Giving to #ENDALZ
---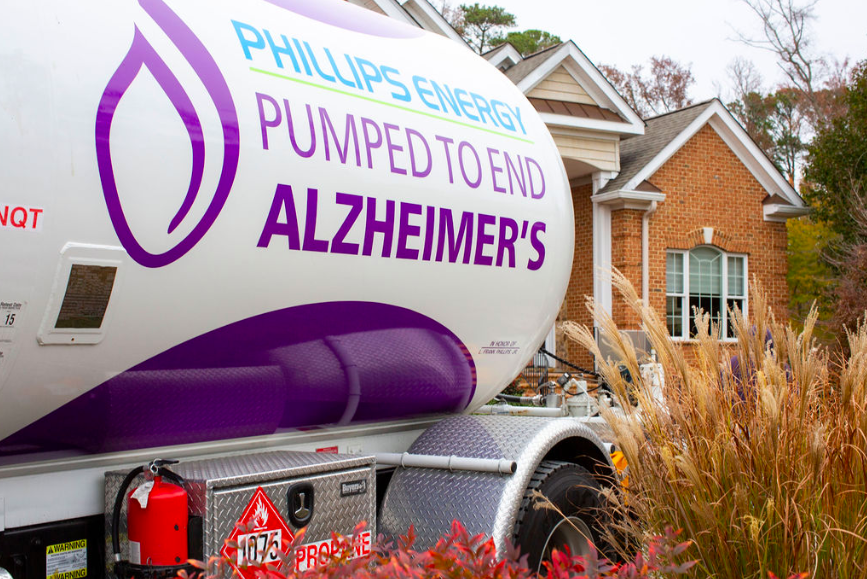 Phillips Energy recently achieved a special milestone during a time when it's celebrating another one.
The company surpassed the $100,000 mark in total giving over the six years it has supported its signature charity, the Alzheimer's Association. The year 2021 marks the 75th year in business for upper Tidewater's major provider of propane, heating oil and other fuels. More than $25,000 of the $100,000 was raised this year alone.
Alzheimer's disease affects an estimated 50 million people worldwide and hits close to home for Elizabeth McCormick, Executive Vice President of the company, and her brother, John Phillips, who is President. Their grandfather and company founder, L. Frank Phillips Sr., died from the disease as did their father, L. Frank Phillips Jr., and Crystal Allmond Phillips, their grandmother.
"It's a cause very dear to our hearts and it's becoming more and more of an epidemic," McCormick said. "We need to find a cure. They're trying but we're not there yet and it takes funds to do it."
November is Alzheimer's Awareness Month. More than six million Americans suffer from Alzheimer's, and 150,000 Virginians aged 65 and older live with the disease. Since the start of the COVID-19 pandemic, Alzheimer's and dementia deaths have increased 16% nationwide.
McCormick said her family is also mindful of the important role caregivers play and the depleting effect it can have. She and John appreciate the dedication and compassion their mother and other caregivers showed during their father's illness.
"Taking care of someone is draining," she said. "You see Alzheimer's affecting so many people beyond the patient. It affects families. It affects caregivers and their families." 
Phillips Energy topped the $100,000 threshold after an outpouring of generosity in support of its annual company team for the Walk to End Alzheimer's, held this year on Oct. 2, 2021 on Gloucester Main Street.
Numerous local sponsors contributed to the effort as did the company's internal team of walkers, "Phillips Phamily Pumped to End Alzheimer's."
Phillips Energy sponsored several fundraisers throughout the year to encourage Alzheimer's giving, many organized by HVAC Coordinator Nora Wood. Wood has worked tirelessly behind the scenes for years.
"She has taken the ball with being our captain for the Walk and run with it since the beginning," McCormick. "A large part of our success is directly attributable to her." 
Phillips Energy raised $7,669.90 this past June 21, dubbed "The Longest Day," or the day after the summer solstice, when thousands of participants worldwide unite to fight the darkness of Alzheimer's.
The 2021 Longest Day fundraiser brought in donations from several area businesses that earmarked a percentage of their proceeds that day to the cause. They include the Inn at Warner Hall, Juan's Mexican Café and Marker Nine. Phillips Energy also donated 10% of sales from its retail fuel station on Route 17 in Gloucester, and an anonymous donor matched online donations up to $1,000.
The company donates a penny for every gallon of fuel pumped from its propane truck decorated in purple, the signature color associated with fundraising for the disease.
"We're just so grateful for everyone who continues to help us with this fight to find a cure," McCormick said. "John and I thank the community and those who support us for helping us reach especially this goal in the 75th year of the company that my grandfather started."