Today's Propane Does That and More
---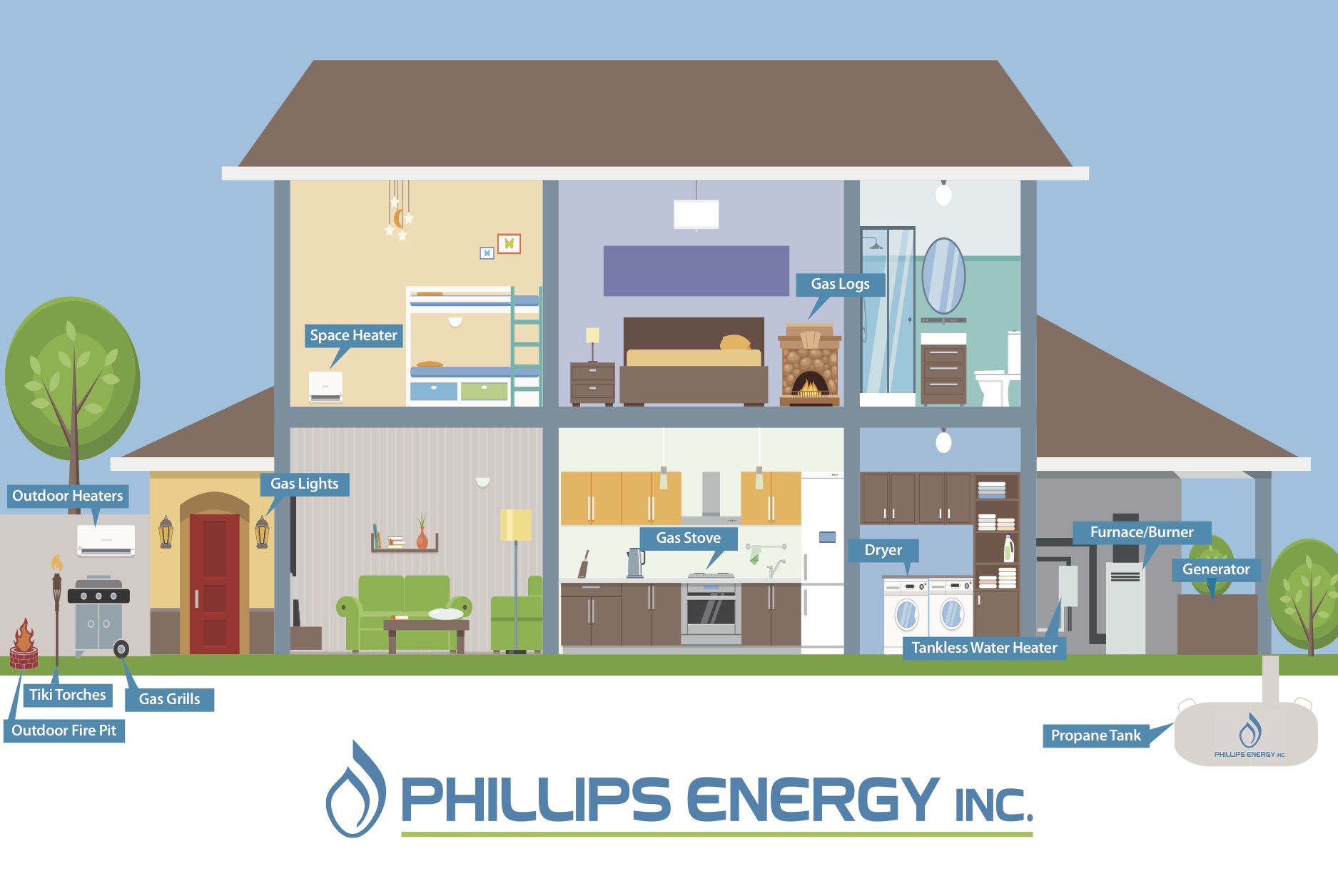 You might not read or hear about it in the media too often, but today's propane is a wonderfully clean, low-carbon and reliable energy source. It can efficiently power a whole host of appliances and equipment you might not have thought of, and it's produced right here in the United States.
Just think about what propane can do in and around the home.
A propane tankless water heater provides a constant supply of hot water, saves an average of $150 per year in energy costs, and produces just half of the CO2 emissions compared to electric storage tank systems.
Propane fireplaces have five to six times the heating capacity of electric fireplaces. And compared to wood-burning fireplaces, propane has a smaller environmental footprint, creating fewer particulate emissions and less carbon monoxide.
Even propane clothes dryers outperform comparable electric models, with annual energy cost savings of 20 percent and 2,000 pounds fewer CO2 emissions over their lifespan.
In the kitchen and on the grill, propane is exceptional. Some 96% of professional chefs prefer cooking with gas such as propane thanks to the way it provides more precise temperature control, it turns on instantly and it's more efficient.
Speaking of the grill, outdoor kitchens have become increasingly popular for year-round entertaining and cooking thanks to propane-powered fire pits and infrared or radiant heaters. 
Propane in the Field, on the Road and off the Road
What you might not realize is that propane is widely used in the workplace as well. Because it is portable, propane can be used almost anywhere as a reliable and highly efficient fuel. 
On the farm, propane is used for a variety of agricultural and transportation operations, saving up to 50 percent on fuel costs compared to diesel engines and even giving many farmers independence from the electric grid.
On the road, propane has become a game changer. More than 150,000 vehicles in the U.S. are now powered by propane, including nearly 20,000 propane-powered school buses.
Off the road, more than 150 models of clean-burning, propane-powered commercial mowers are keeping lawns neat, even on "ozone action days" when gasoline and diesel mowers cannot operate. And half a million forklifts in the U.S. are powered by propane, producing 97 percent fewer hydrocarbon and nitrogen oxide emissions than comparable diesel forklifts. 
Clean, Green and Renewable
Propane has always been a clean-burning, efficient fuel that has less impact on the environment than other fuels. Groups in the U.S. and Europe are going one step further with the development of renewable propane, which is produced from renewable sources such as biomass, animal fat, and vegetable oil.
While not yet widely available, renewable propane has proven to have all the benefits of the conventional propane available, meaning that it's clean, affordable and reliable. 
Proudly Local
Need another reason to consider propane for your home or workplace?  Some 4,000 propane companies operate across the U.S., employing more than 57,000 people. And more than 70 percent of those propane companies are independent, family-owned businesses – the lifeblood of the American economy. 
A Great Time to Make the Switch 
There has never been a better time to make the switch to a propane-powered appliances. While supplies last, $300 rebates are currently available for the following appliances:
Propane cooktop ranges
Propane clothes dryers
Vented propane heaters and wall furnaces
Propane water heaters
Gas pack whole-house heating systems. Units must be at least 40,000 BTU and 90 percent or more efficient. Hybrid (dual fuel) heating systems that include propane are also eligible.
Click here to learn more about the rebate program guidelines, terms and conditions. Appliances must be installed and inspected before December 31, 2021.
Want to save even more? Phillips Energy is celebrating its 75th anniversary by offering customers $75 off appliances and $75 off labor. Refer a friend and earn another $75 through the Phillips Energy referral program.
Contact the Phillips Energy showroom nearest you to get an estimate and consultation today!
GLOUCESTER: 804-642-2166
MATHEWS: 804-725-9020 
NEW KENT: 804-966-2317