Meet Matt Taylor, Phillips Energy General Manager
---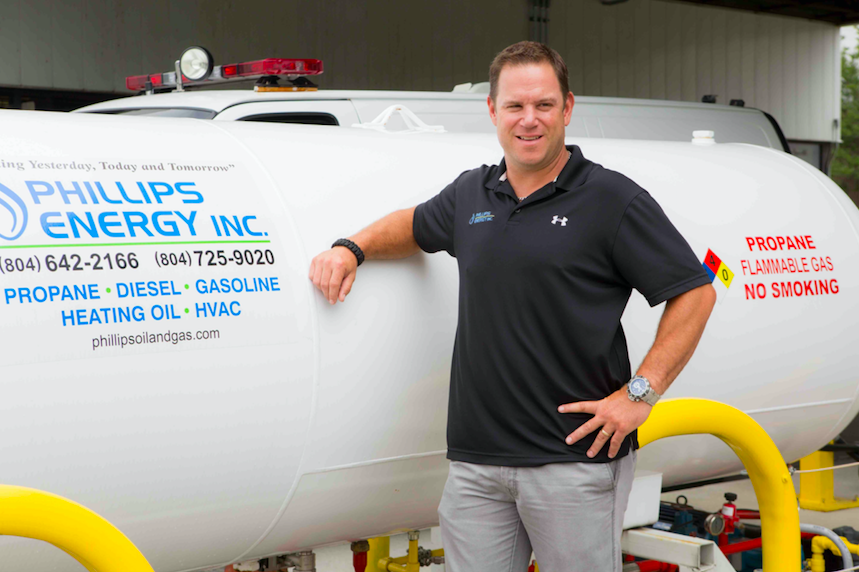 You could say, in a lot of ways, Matt Taylor grew up with Phillips Energy.
As a Gloucester Point native, Taylor has worked at Phillips Energy since he was in high school, helping pump gas at the pumps.
Today, he serves as the general manager overseeing the company's propane installation and service operations, autogas installations and contractor partner program.
After graduating high school in 1994, Taylor wasn't sure what he wanted to do. That changed when John Phillips and Elizabeth McCormick decided to add propane to the company's portfolio.
"They asked me if I wanted to stay on and help with that, and I said sure," said Taylor, always a man of few words.
Taylor then began working at Phillips Energy full-time and started learning the installation side.
"I was running oil lines, gas lines, setting oil and propane tanks, and worked on gas logs," he said. "Doing those kinds of jobs gave me such a sense of accomplishment because I could see my work, and because I could see that someone was happy with what I did to their home."
Taylor takes a lot of pride in his work, always treating each customer's home like it was his own.
"You don't do something to someone else's home that you wouldn't do to yours."
After a while, Taylor began doing estimates – learning yet another side of the business.
When Phillips Energy opened up a new location in Mathews, he was asked to manage that location.
Though he had never really thought about getting into management, he found that he liked it.
"My position evolved, and I really liked working at Phillips," said Taylor.
Taylor said the Phillips family have always treated him like family and that because he's worked at the company so long many customers know him.
"It's comfortable here, and it's such a team environment that I feel like it's my business, too."
Currently, as general manager, Taylor oversees all the offices, helps troubleshoot problems when needed and supports all the other departmental managers with helpful advice and guidance.
Though his title implies authority, Taylor said his management philosophy is to treat everyone equally, something he learned from the Phillips – especially the late L. Frank Phillips Sr.
When Taylor was in high school, he saw Phillips Sr. every day when pumping gas.
"He was a big part of my life," said Taylor. "He was one of the nicest men I ever met, and I looked up to him. He was a great man."
Taylor said what he truly loves about his job at Phillips Energy is the customers.
"At the end of the day, it's the people. Seeing the smiles on their faces and hearing a 'thank you' is what it's all about."