Alzheimer's Disease Striking at an Early Age
---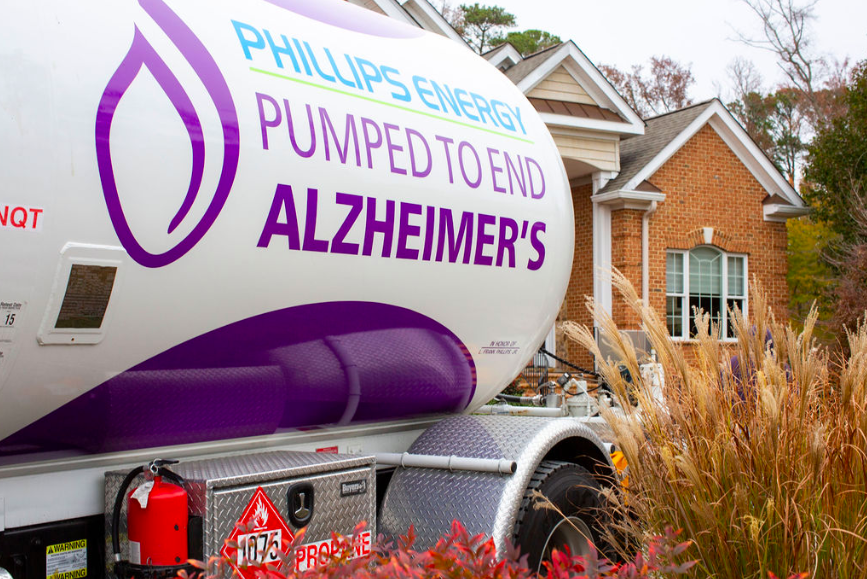 The statistics are jarring.
The number of individuals who develop Alzheimer's disease has doubled in recent years. Contrary to what many believe, Alzheimer's disease is not a disease that strikes only the elderly. Early-Onset Alzheimer's affects more than six million Americans under the age of 65.
No one knows why. That's among the many reasons the Alzheimer's Association needs more money for research. Many in their 40s and 50s actually struggle to get an accurate diagnosis of dementia because of their younger age.
If you've been a Phillips Energy customer for a long time, you likely already know that Alzheimer's is our signature charity. New here? Alzheimer's disease hits close to home for us. Our president, John Phillips, and his sister, Elizabeth McCormick, our vice president, lost their grandfather and company founder, L. Frank Phillips Sr., to the disease as well as their father, L. Frank Phillips Jr., and Crystal Allmond Phillips, their grandmother.
While the 2022 Walk to End Alzheimer's on the Middle Peninsula was canceled due to Hurricane Ian, the annual Phillips Energy team raised $18,578.60 – and we thank you for that!
You can still donate to the team here. While we've reached our goal for the walk, we are still short of our overall goal for the year and are grateful to all our customers who have been generous givers to #EndALZ!
All the money we raise support research for a cure and the tireless caregivers who are often needed to provide round-the-clock support to families with a loved one impacted by the disease.
Here's what's important to know to remain proactive about your health as it relates to Alzheimer's. Not all memory problems are related to Alzheimer's. But the Alzheimer's Association encourages anyone with memory problems to seek a comprehensive evaluation with a doctor who specializes in Alzheimer's. Some early-warning signs can be:
Forgetting newly learned information or important dates
Asking for the same thing again and again
Problem-solving difficulties, such as keeping track of bills or following a recipe
Losing track of the date or time of year
Vision or depth perception problems
Difficulty finding the right words to speak
Misplacing things and not being able to retrace your steps to find it
Increasingly poor judgment
Withdrawal from social situations
Changes in mood and personality
Write down symptoms you are experiencing and share them with your physician. Family history also can play a role. Those who inherit certain genes have a higher risk of developing symptoms in their 30s, 40s and 50s.
Advanced symptoms of Alzheimer's include severe mood swings and behavior changes; deepening confusion about time, place and life events; suspicions about family, friends and caregivers; trouble speaking, swallowing or walking; and severe memory loss.
Although there is no known cure for the disease, early diagnosis and treatment can lead to better quality of life. That fuels us to do as much as we can at Phillips Energy. 
For more information or support about Early-Onset Alzheimer's, visit this link.