Phillips Energy to team up with Body By D June 20 for Alzheimer's Association bootcamp fundraiser
---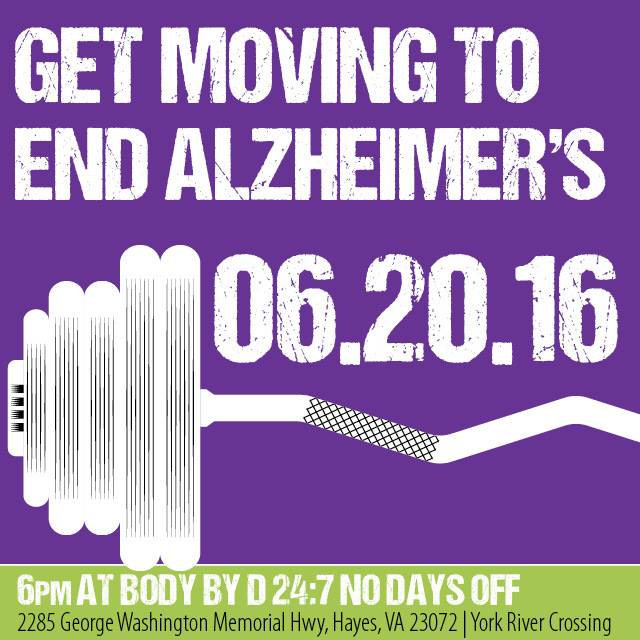 For 2016, the longest day of the year falls on June 20.
But for the millions of families living with the devastating effects of Alzheimer's Disease each day, every day can feel like the longest day.
That's why this year, recognizing the symbolism the longest day of the year has with the journey families are on, Phillips Energy and Body By D are pleased to announce that on June 20, at 6 p.m., they are joining forces and hosting a Get Moving Bootcamp to raise money in support of research to find a cure for Alzheimer's.
The cost to participate is $10 and 100 percent of proceeds will go to the Alzheimer's Association. Phillips Energy will match dollar for dollar every entrance fee.
All fitness levels are welcome and encouraged to attend.
The bootcamp will be held at the new Body By D 24:7 No Days off facility located at 2285 George Washington Memorial Highway in Hayes.
RSVP to Nora Wood at nwood@peifuels.com.
The is the second bootcamp of its kind Phillips Energy and Body By D have hosted together. The first, held in November 2015, was part of a two-part fundraising event that raised more than $1,000 for the cause, directly benefiting the local Alzheimer's Association chapter.
"We're honored to partner with Body by D again to raise money and awareness of the need to find a cure for Alzheimer's Disease," said Phillips Energy Vice President Elizabeth McCormick. "It's a disease that impacts our community and it's a cause that's very close to us."
The Alzheimer's Association works on a global, national and local level to enhance care and support for all those affected by Alzheimer's and other dementias. They are also the largest nonprofit funder of Alzheimer's research and the leading voice for Alzheimer's disease advocacy, fighting for critical Alzheimer's research, prevention and care initiatives at the state and federal level.

Everyone who has a brain is at risk to develop Alzheimer's, a fatal disease that cannot be prevented, cured or even slowed. This is why funding for research is so important.
Body by D Founder, D'Shawn Wright says Alzheimer's hits close to home as he has watched a close friend care for her father with the disease.
"Anytime a good friend has an issue, it affects me," Wright said. "A good friend of mine is dealing with Alzheimer's with her father, so that's why we are emphatic and compassionate about helping this cause because we want to find a cure and make a way for people to be able to deal with this better because it's such a terrible disease that affects a lot of families."