Phillips Energy Raises Over $25,000 to Benefit the Alzheimer's Association
---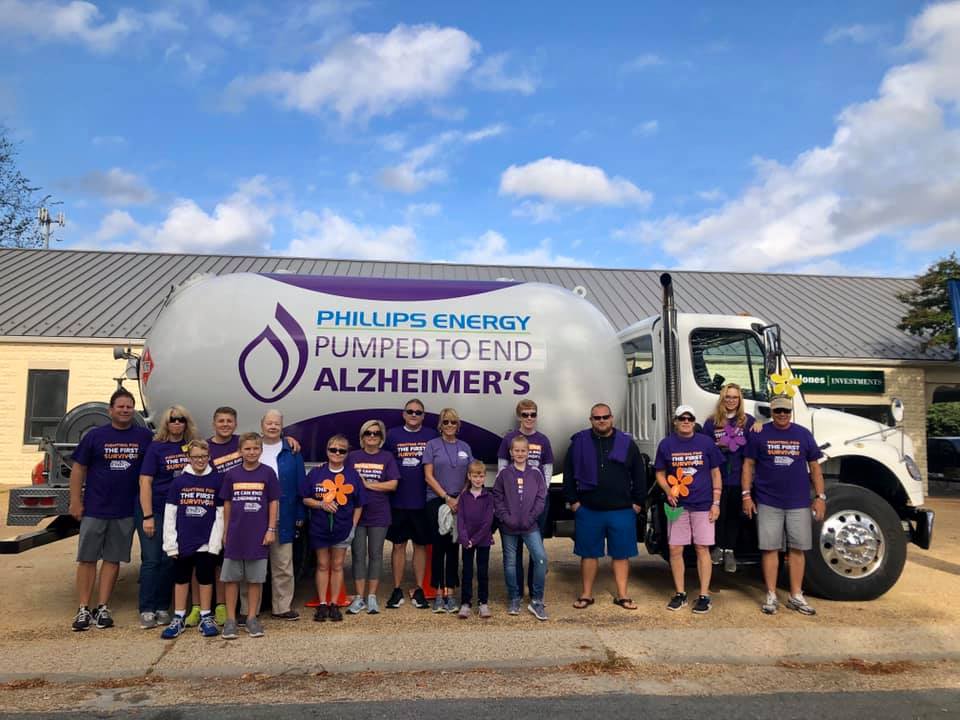 Twenty-five years ago, L. Frank Phillips, Jr. had a vision. As the business of fueling people's lives was changing, and propane was becoming an affordable, clean and reliable form of energy, he wanted to bring it to the communities he served.
To honor Phillips' memory, and celebrate the last 25 years of a nearly eight-decade old business, Phillips Energy set out in Sept. 2019 to raise $25,000 for the Alzheimer's Association.
"Thanks to this incredibly giving and kind community, we not only reached that goal," said Elizabeth Phillips McCormick, Vice President of Phillips Energy, "we surpassed it, raising more than $25,000 for this very important cause that touches the lives of so many."
To reach the fundraising goal, Phillips Energy held a series of fundraisers. Fundraising initiatives included the following:
Signature Phillips Energy "Pumped to End Alzheimer's" Propane Truck. A penny from every gallon of propane pumped from the truck was donated to the Alzheimer's Association.
Chowder Sale. Waypoint Seafood & Grill partnered with Phillips Energy and hosted a Crab and Corn Chowder sale at the Gloucester Point retail fuel station.
Scoot's BBQ Sale. Phillips Energy and Scoot's BBQ partnered to sell BBQ dinners with a portion of the proceeds going to benefit the Alzheimer's Association.
Grill Raffle. Customers and the community purchased raffle tickets to enter to win an American Outdoor Grill valued at $2,800.
Phillips Phamily. Community members, friends, family and customers joined the Phillips Energy Walk to End Alzheimer's team and made generous donations.
"Our father suffered from Alzheimer's and we endured the challenges of living with this debilitating disease every day," said John Phillips, President of Phillips Energy. "We are driven and dedicated to do all we can to support others suffering, and help get to the day when someone can finally say they are a survivor." 
The Middle Peninsula Walk to End Alzheimer's, held on Gloucester Main Street on Oct. 5, 2019, raised more than $75,000, the largest sum in the region's walk history. Phillips Energy received a special recognition at the event for their fundraising efforts.