Phillips Energy Earns L O V E Gloucester Award From Gloucester Chamber of Commerce
---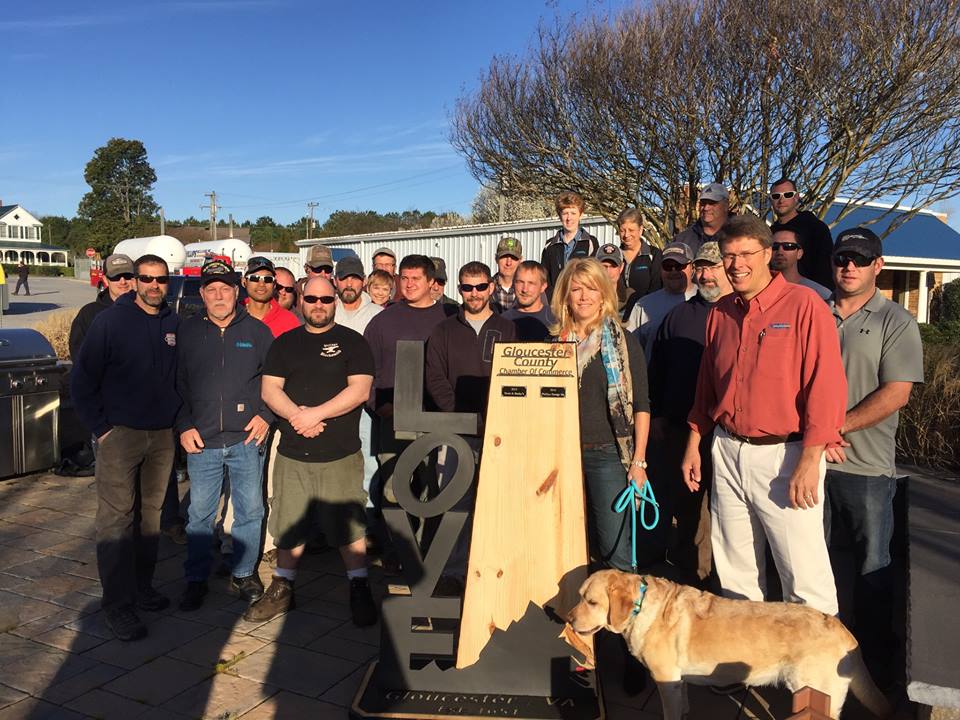 Phillips Energy was honored to receive the Gloucester County Chamber of Commerce's LOVE Gloucester Award at its annual gala February 4, 2017. We do, indeed, love Gloucester, and love all the kind words you said about us. 
If you missed the event or the video posted to our Facebook page that night, please read below the words Chamber Executive Director Gloria Williams read before announcing Phillips Energy as the recipient. 
In late 2016, the 70th anniversary year of Phillips Energy here in Gloucester, Frank Phillips lost his battle with Alzheimer's Disease. But as his wife, Linda Phillips, told the Phillips Energy team last month, even in the final stages of the disease, he called out for the men and women who were part of his Phillips Energy family. He said their names. He talked about his customers. He talked about this community he knew and loved.
Even with his memory fading, his love for Gloucester was that strong. His love for his team was that powerful.
And today, the third generation of the Phillips family to run the business – siblings John Phillips and Elizabeth McCormick – carry on that same tradition and same love for Gloucester. In fact, their entire team does.
Fittingly, in 2016, John and Elizabeth launched a new mantra for their company – more than just fuel.
Yes, Phillips Energy provides propane, heating oil and related products for families and businesses to fuel their lives. But for Phillips Energy, it's about motivating each other to do more for their customers.
You can see it in everything they do. Phillips Energy team members know not just where the propane tanks are buried on their customers' properties, but they know their dogs' names, they are welcomed into customers' homes and places of business, and they know when people fall on hard times and how to help.
They strive to do more for the community.
Phillips Energy has supported countless charities in Gloucester in 2016 (the list is too long to read here). And not just John and Elizabeth. The entire team. In 2016, the Phillips Energy team members participated wholeheartedly in every fundraising event, volunteering their time and hard earned funds in support of multiple causes.
And they are dedicated to be there more for each other.
At Frank Phillips' funeral, the entire Phillips Energy team sat together, as a family. The legacy Mr. Frank left was that the Phillips Energy team was a family. And as a family it was their job to take care of each other, to take care of Gloucester.   
For all of these reasons and more, we are delighted to recognize Phillips Energy with the LOVE GLOUCESTER award.