Phillips Energy Raises More Than $2,000 to Benefit the Alzheimer's Association
---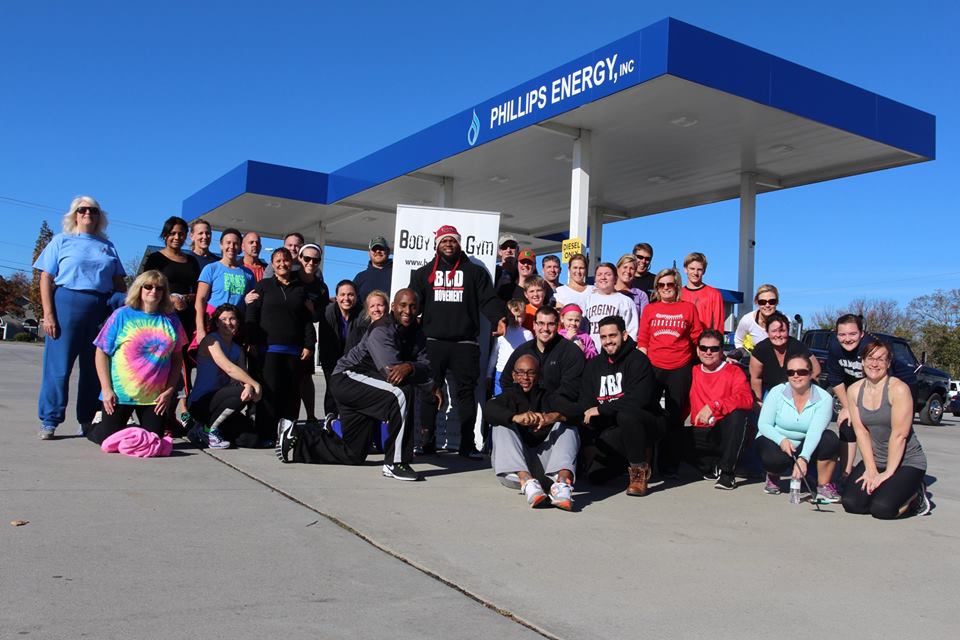 Phillips Energy is pleased to announce they collectively raised $2,046.70 through two events, Giving Tuesday and a fundraising bootcamp, Get Moving, to donate to the local Alzheimer's Association.
"It's always a delight for us to contribute to the community that has given so much to us, especially this cause, which is very near and dear for our family," said Elizabeth McCormick, Vice President of Phillips Energy.
Giving Tuesday is a movement, the first of its kind, that encourages charities, families, businesses and individuals to follow the post-Thanksgiving shopping blitz with efforts to help local communities. On Giving Tuesday, the Tuesday after Thanksgiving, Phillips Energy donated 10 percent of retail sales, including fuel sold at the gas station near Gloucester Point.
The second event, a fundraising bootcamp, was co-hosted by Phillips Energy and Body By D. Nearly 50 people attended the bootcamp held at Phillips Energy at their Hayes location near Gloucester Point. The event featured three trainers from Body By D as well as two trainers from Lead Sports Performance, a speed and agility company affiliated with Body By D. Together, the trainers worked with adults and children of various fitness levels for the 30-minute workout. The cost to participate was $10 and D'Shawn Wright, Founder of Body By D, donated 100 percent of the participation fee to the Alzheimer's Association. In addition, Phillips Energy donated $10 for every attendee.
"As a person who has gone through a lot, I want to give back to people," said Wright. "Don't let what you cannot do, stop you from what you can do and we truly appreciate people coming out and making a difference."
Wright founded Body By D in Yorktown in 2009. He opened a second location in Gloucester in 2015. He says he chose Gloucester because he saw a need within the community to provide a place for people to get in shape and focus on health and fitness.
Phillips Energy was founded in 1946 and remains family owned and community loved, with locations in Gloucester, Mathews and New Kent counties.
ABOUT THE ALZHEIMER'S ASSOCIATION:
Founded in 1980, the Alzheimer's Association is the leading voluntary health organization in Alzheimer's care, support and research. Their mission is to eliminate Alzheimer's disease through the advancement of research; to provide and chance care and support for all affected; and to reduce the risk of dementia through the promotion of brain health.
Today, the Alzheimer's Association reaches millions of people affected by Alzheimer's across the globe through the national office and chapters in communities nationwide.
To learn more about the Alzheimer's Association, visit www.alz.org.
ABOUT BODY BY D:
Body By D, Inc. was founded in Yorktown, Va. in April 2009 by L. D'Shawn Wright. Ever since, Wright and his team have helped people and athletes perform better in life and sport. Body By D works with clients of all ages, shapes and sizes to improve their health, lose weight, gain muscle, reduce prescription medication and more.
Body By D's Yorktown gym features has cardio and strength training equipment from brands such as Life Fitness, Hammer Strength, Hoist, Precor and Lcarian and houses 6,000 pounds of weight and dumbbells.
Body By D expanded to Gloucester in 2015, offering personal training, small groups and bootcamp classes from its location in the White Marsh Shopping Center.
For more information on Body By D visit www.BBDGloucester.com.