Phillips Energy and Body By D To Co-Host Fundraising Bootcamp Workout Nov. 21
---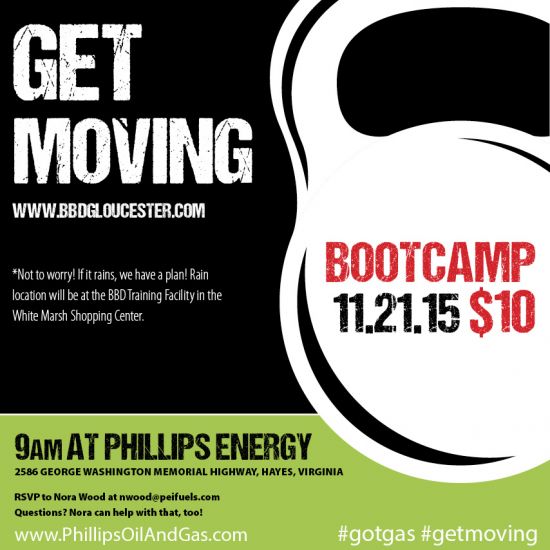 All proceeds will benefit the Alzheimer's Association.

Get up and get moving for the Alzheimer's Association. That's the message Phillips Energy and Body By D are spreading to get the word out about their fundraising bootcamp workout on Saturday, November 21 at 9 a.m. 

The "Get Moving" 30-minute bootcamp workout will take place on the lawn of the Phillips Energy Gloucester location at 2586 George Washington Memorial Highway near the Coleman Bridge.

Cost to attend is $10. Body By D founder D'Shawn Wright will donate 100 percent of the entry fee to the Alzheimer's Association. Phillips Energy will donate an additional $10 for every attendee. 

Not to worry if the forecast calls for rain. Rain location will be the BBD Training Facility in the White Marsh Shopping Center. 

RSVP to Nora Wood at 804.642.2166 or nwood@peifuels.com.

ABOUT THE ALZHEIMER'S ASSOCIATION:

Founded in 1980, the Alzheimer's Association is the leading voluntary health organization in Alzheimer's care, support and research. Their mission is to eliminate Alzheimer's disease through the advancement of research; to provide and chance care and support for all affected; and to reduce the risk of dementia through the promotion of brain health. 

Today, the Alzheimer's Association reaches millions of people affected by Alzheimer's across the globe through the national office and chapters in communities nationwide. 

To learn more about the Alzheimer's Association, visit www.alz.org. 

ABOUT BODY BY D:

Body By D, Inc. was founded in Yorktown, Va. in April 2009 by L. D'Shawn Wright. Ever since, Wright and his team have helped people and athletes perform better in life and sport. Body By D works with clients of all ages, shapes and sizes to improve their health, lose weight, gain muscle, reduce prescription medication and more. 

Body By D's Yorktown gym features has cardio and strength training equipment from brands such as Life Fitness, Hammer Strength, Hoist, Precor and Lcarian and houses 6,000 pounds of weight and dumbbells. 

Body By D expanded to Gloucester in 2015, offering personal training, small groups and bootcamp classes from its location in the White Marsh Shopping Center. 

For more information on Body By D visit www.BBDGloucester.com.  

ABOUT PHILLIPS ENERGY:

Phillips Energy has long been one of upper Tidewater, Va.'s premier providers of heating oil, on and off road diesel, gasoline, propane, dyed and cleared kerosene and lubricants. 

Phillips Energy operations run out of three locations – Gloucester Point, Mathews and New Kent. Their services include a propane gas distribution division, propane appliance installation and service, HVAC installation and service and a 24-hour retail fuel facility. 

The retail fuel facility, located at the headquarters location at 2486 George Washington Memorial Highway in Hayes, Va. near the Coleman Bridge, offers fueling for the general public and fleets with gasoline, diesel, propane auto gas, E85 flex fuel and 20 percent biodiesel. 

Learn more about Phillips Energy throughout this site.