Phillips Energy Unveils #ENDALZ Propane Truck To Community, Raises Funds for Alzheimer's Association
---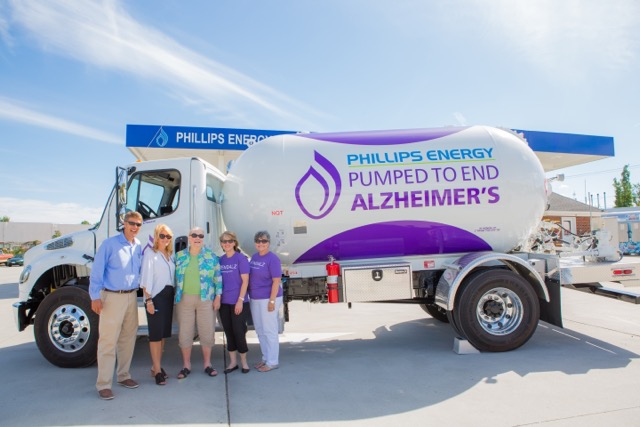 Phillips Energy is pumped to help end Alzheimer's Disease and proved its dedication to the cause this week when it unveiled the newest propane truck in its fleet.
The truck – adorned with the phrase "Pumped To End Alzheimer's" and decorated in the disease's signature color purple – hit the roads of the Middle Peninsula Thursday, Sept. 13.
A penny from every gallon of propane pumped from the truck will be donated to the Alzheimer's Association, which will earmark the funds to support families and efforts benefiting those living with Alzheimer's on the Middle Peninsula.
"We're honored to be part of this cause. As many of you know, our father has Alzheimer's and we are coping with it every day," said John Phillips, President of Phillips Energy. "We're looking forward to having this truck on the road and getting some visibility, and hopefully helping get people to understand more about Alzheimer's and what it's all about."
More and more, propane and oil companies are getting their operations involved in helping with special causes.
"We're proud to partner with the Alzheimer's Association as it's a cause that's so important to our family and so many in our community," said Elizabeth McCormick, Vice President of Phillips Energy.
Of the more than five million Americans living with Alzheimer's disease, 140,000 are right here in Virginia.
"I've been doing this in this area for seven years and I'm always touched by when the community reaches out," said Ellie Galloway, who attended the intimate truck unveiling ceremony at Phillips Energy on Sept 12. Galloway is the Regional Director, Middle Peninsula and Northern Neck, for the Alzheimer's Association Greater Richmond Chapter. "Someone asked me how this came about and I couldn't list all the people who brought this together. It came from every direction and we appreciate the help in getting the word out."
Scotty Signs, owned by Paul and Stacie Martin of Gloucester, wrapped the propane truck. At the truck unveiling gathering, Galloway, representatives from the Richmond Chapter and several families from the region living with Alzheimer's gathered to celebrate the awareness and funds the truck will raise for the Alzheimer's Association.