Phillips Energy and Waypoint Seafood and Grill Featured on the Hampton Roads Show
---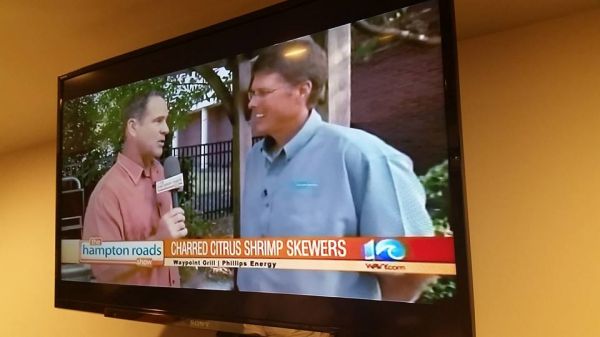 Labor day weekend is here and it's time to do some grilling! 

Chef Hans Schadler from Waypoint Seafood and Grill and John Phillips of Phillips Energy were recently featured on the Hampton Roads Show to demonstrate grilling techniques and offer up some grilling safety tips.

Watch it here! 

Chef Hans showed viewers how to prepare, grill and enjoy Charred Citrus Marinated Shrimp Skewers complimented with a Grilled Peach Basil Relish. This recipe offers "a little heat and a little sweet," said Chef Hans. And yes, you can grill fruit! 

"With Labor Day weekend ahead, this is easy to make and you can prepare some of the things ahead," said Chef Hans. "It's enjoyable with a nice cool glass of beer or a little Pinot Grigio."

John discussed some of the most important grilling safety tips that are applicable year round – which is also when you should be using your grill!

Ensure there are no leaks. 

Check the hoses, regulator and propane cylinder on the grill to ensure there are no leaks. To see if there are any leaks, add a little soapy water on the line. Be sure to wipe it off when you're done to avoid corrosion on your valves. 

"If you see bubbles, you got troubles," John said.

Be prepared. 

If you experience a grill fire, call the fire department immediately. If you can get to the bottle safely, cut it off. 

Have a spare bottle. 

If you are worried about running out of gas, ensure you have a spare readily available. If you have a propane tank to heat your house or fuel your gas fireplace, consider calling Phillips Energy to have your grill line tapped directly into you. There's nothing worse than running out of propane mid grill! 

Have fun! 

There is still plenty of great grilling weather ahead! Need recipe ideas. Click around this site and visit www.waypointgrill.com. 

You can always call Phillips with questions concerning your grill. 

Watch the complete segment here.