Primo Recipe: Grilled Atlantic Salmon
---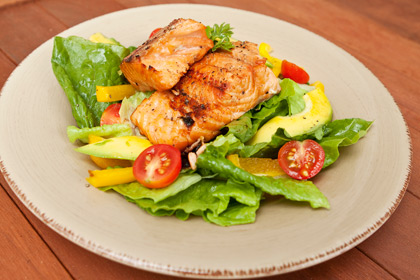 We are so lucky to live in this coastal region for many, many reasons. Chief among them is it helps us foster a true appreciation of the seafood industry and a love for coastal fare. Now, salmon may not be wild here, but it's certainly a fish favorite. Try this recipe, courtesy of our friends at Primo Ceramic Grills (which we are delighted to carry at all three Phillips Energy locations) the next time you are craving it! 
Ingredients:
Fresh Atlantic Salmon (250g per person)
2 lemons
¼ cup of soy sauce
¼ cup of brown sugar
¼ cup of water
¼ cup of olive oil
Cracked pepper
Setup:
Set Grill for direct cooking (no heat deflector plates) and heat to 325degrees Fahrenheit / 160 degrees Celsius
Preparation:
In a bowl, squeeze juice from 2 lemons and mix with soy sauce, brown sugar, water olive oil and two cranks of cracked pepper. Set the Salmon in a plastic storage container and mixture over top. Refrigerate for 1 – 2 hours giving the container a little shake once or twice.
Cooking:
Grill over direct heat (325 (f) 160(c)) for 10 minutes a side. Fish is done when it easily flakes with a fork.
Tips:
Be gentle with the fish on the grill and we suggest using tongs and a spatula to flip the fish. Is also helpful when cooking fish to take paper towel with a little bit of olive oil and rub on the surface of grill (use tongs) where you plan on cooking the fish. Salmon with skin is ideal to grill as it stays together a bit better.
Healthy Tips:
This is a fantastic and very healthy dish. (Very high is omega 3s which protects your heart and joints) This serves great on a fresh salad.
For more information on Primo Grills and additional recipes, visit: http://www.primogrills.com.au/