New Prost Food Truck Begins Regular Weekly Appearances in Gloucester
---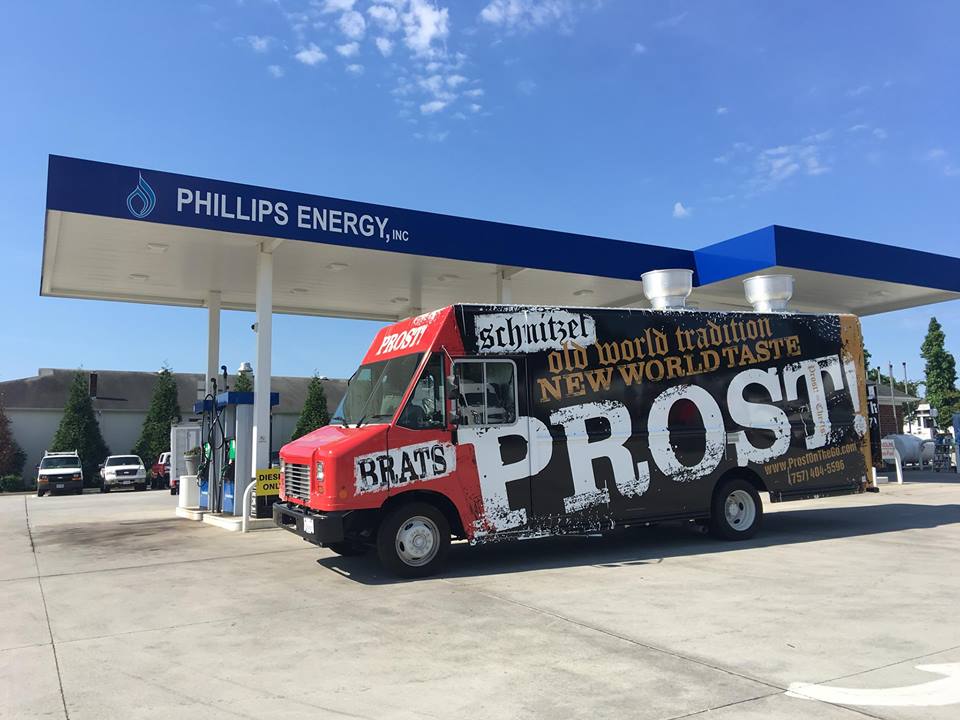 Prost Food Truck, a new Virginia German restaurant on wheels, is now making regular stops in Gloucester. Starting this week, the truck is serving classic German fare at the Phillips Energy fuel station in Hayes every Wednesday from 3 to 7 PM.
Prost Food Truck is named after the German word for "cheers" and puts a new world twist on traditional old world dishes such as brats, schnitzel and frites. Soups, salads and side dishes are also available, with prices ranging from $8-$12, tax included. Diners can pay with cash or card.
The truck is the latest culinary offering presented by Waypoint Seafood & Grill, a fine dining restaurant located in Williamsburg. Waypoint's Tina Phillips of Gloucester Point launched the truck in early June with husband, John, who is president of Phillips Energy, which is headquartered in Gloucester.
"We've been thinking about the concept for a while, as my father has a number of favorite dishes that are well suited to food truck delivery and an on the go dining experience," said Tina Phillips, whose father Hans Schadler is executive chef at Waypoint and was named Virginia Chef of the Year in 2016. "The initial response has been fantastic, and we think having this regular early-evening stop at Phillips Energy will be a convenient way for locals to try it and to grab dinner on the way home from work."
Propane provided by Phillips Energy is used to fuel the truck's cooking equipment and on-board generator.
"Propane is clean-burning, efficient and safer to handle than gasoline, so it's really the ideal fuel for a food truck application," explained John Phillips.
Prost Food Truck also makes stops at festivals and events around the area, as well as appearances at local microbreweries such as Alewerks Brewing Company, Tradition Brewing Company and Virginia Beer Company. The truck is also available for catering private events.
Menus, scheduling and other information on Prost Food Truck is available on the company's website at http://prostonthego.com/ and on Facebook at https://www.facebook.com/prostfoodtruck/.